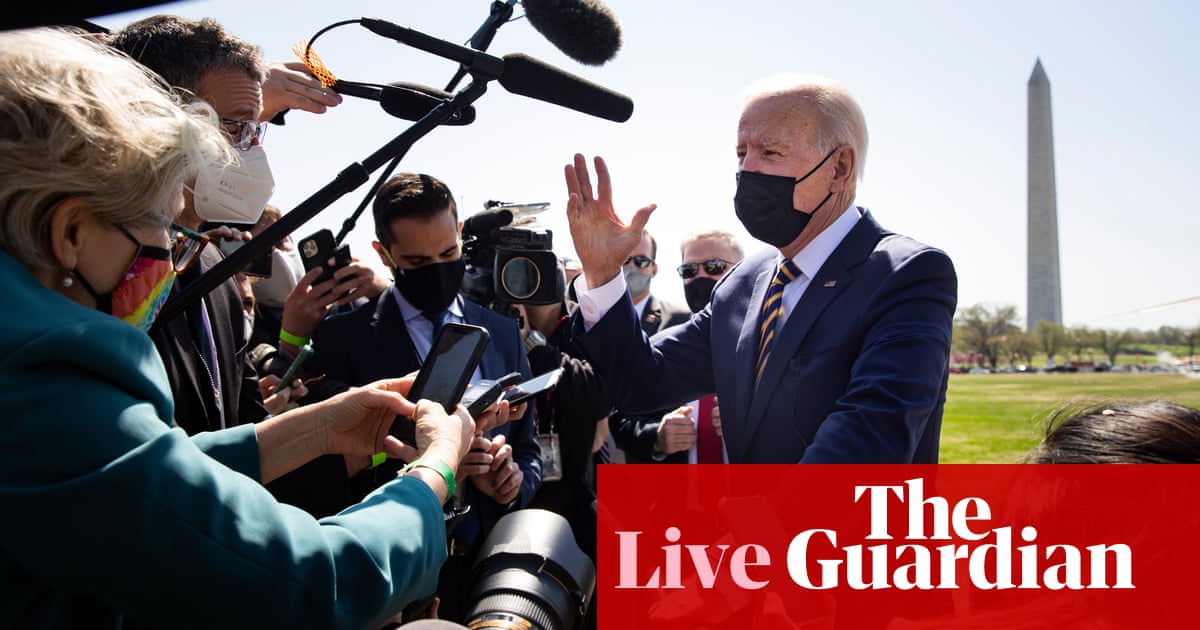 Fewer than half of Americans belong to a house of worship, a new study shows, but religion – and Christianity in particular – continues to have an outsize influence in US politics, especially because it is declining faster among Democrats than Republicans.
Just 47% of the US population are members of a church, mosque or synagogue, according to a survey by Gallup, down from 70% two decades ago – in part a result of millennials turning away from religion but also, experts say, a reaction to the swirling mix of rightwing politics and Christianity pursued by the Republican party.
Among other groups Gallup reported, the decline in church membership stands out among self-identified Democrats and independents. The number of Democratic church members dropped by 25% over the 20 year period, with independents decreasing by 18%. Republican church members declined too, but only by 12%.
David Campbell, professor and chair of the University of Notre Dame's political science department and co-author of American Grace: How Religion Divides and Unites Us, said a reason for the decline among those groups is political – an "allergic reaction to the religious right".
"Many Americans – especially young people – see religion as bound up with political conservatism, and the Republican party specifically," Campbell said.
"Since that is not their party, or their politics, they do not want to identify as being religious. Young people are especially allergic to the perception that many – but by no means all – American religions are hostile to LGBTQ rights."
It's looking increasingly likely that we will get Minneapolis police chief Medaria Arradondo on the stand for the prosecution today.
Arradondo (often known informally in the Twin Cities as "Rondo") became chief in 2017. He very quickly condemned the killing of George Floyd, calling it murder last summer. He had swiftly fired Derek Chauvin and the three officers who helped him in the arrest of Floyd.
We expect that Arradondo will work hard to keep the focus on Chauvin and make efforts to show that the former officer stepped outside his training and police principles when he pinned down Floyd and knelt on his neck, even after the man was unconscious. (Floyd subsequently died on May 25, 2020. Chauvin denies murder.)
However, it will be difficult for the chief to divorce the department from the officer. Chauvin had been a police officer in Minneapolis for 19 years and had multiple complaints against him. There has also been evidence that he had used his knee to hold people down before, including by the neck.
Anthony Fauci has described attacks on him from Republicans as "bizarre", after a barrage of criticism from senior GOP figures.
The infectious disease expert who has led the US effort against Covid-19 was forced to defend himself after a former Trump official called him "the father of the actual virus" and the senator Lindsay Graham followed other Republicans in urging Fauci – Joe Biden's chief medical adviser and the head of the National Institute for Allergy and Infectious Diseases, to travel to the US-Mexico border.
Speaking to Fox News, Fauci said he had become a scapegoat for rightwing figures.
"I've been a symbol to them of what they don't like about anything that has to do with things that are contrary to them, anything outside of their own realm," he said.
In a flurry of tweets on Friday, Graham, from South Carolina, told Fauci: "You need to go to the southern border and witness in person the biggest super-spreader event in the nation."
"It's a little bit bizarre, I would say," Fauci said. "I mean … Lindsey Graham, who I like, he's … you know, he's a good person, I've dealt with him very, very well over the years, you know, equating me with things that have to do at the border? I mean, I have nothing to do with the border."
Joe Biden has said his $2tn plan to rebuild America's "crumbling" roads, bridges, railways and other infrastructure would rival the space race in its ambition and deliver economic and social change on a scale as grand as the New Deal. The president has also vowed his "once-in-a-generation" investment will reverse long-standing racial disparities exacerbated by past national mobilizations.
Embedded in his sprawling infrastructure agenda, the first part of which Biden unveiled this week, are hundreds of billions of dollars dedicated to projects and investments the administration says will advance racial equity in employment, housing, transportation, healthcare and education, while improving economic outcomes for communities of color.
"This plan is important, not only for what and how it builds but it's also important to where we build," Biden said at a union carpenters' training facility outside Pittsburgh last week. "It includes everyone, regardless of your race or your zip code."
His proposal would replace lead pipes and service lines that have disproportionately harmed Black children; reduce air pollution that has long harmed Black and Latino neighborhoods near ports and power plants; "reconnect" neighborhoods cut off by previous transportation projects; expand affordable housing options to allow more families of color to buy homes, build wealth and eliminate exclusionary zoning laws; rebuild the public housing system; and prioritize investments in "frontline" communities whose residents are predominantly people of color often first- and worst-affected by climate change and environmental disaster.
The plan also allocates $100m in workforce development programs targeting historically underserved communities and $20m for upgrading historically Black college and universities (HBCUs) and other minority-serving institutions (MSIs), and quadruples funding for the Manufacturing Extensions Partnership to boost investment in "minority owned and rurally located" businesses.
Maurice Mitchell, national director of the Working Families Party (WFP), said it was clear Biden had been listening to activists and understood the interlocking challenges of racial injustice, climate change and economic inequality.
"This is not race-neutral – it's actually pretty aggressive and specific," he said, noting the coalition of Black voters and women who helped Biden clinch the Democratic nomination and win the White House.